Techdesigno Presents at Staples in West Orange, NJ to Discuss Online Marketing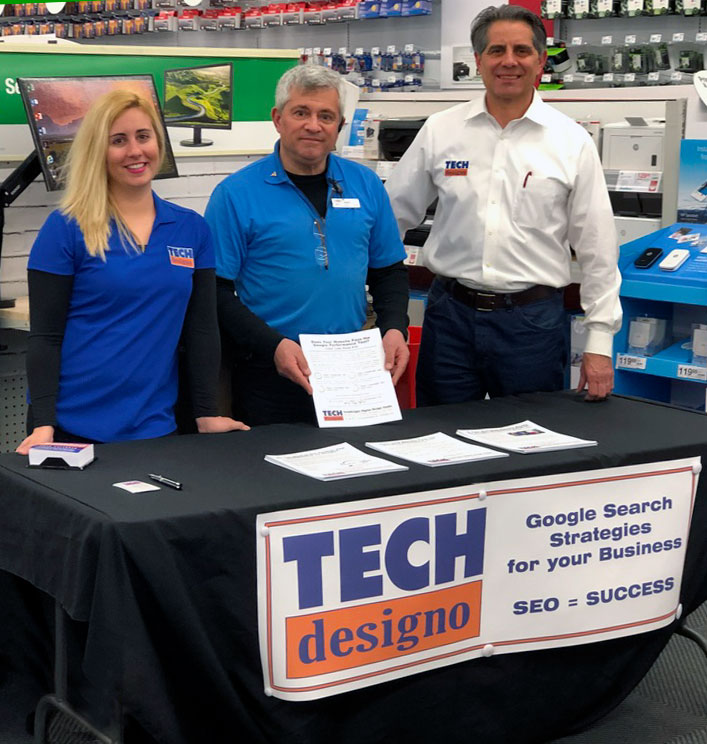 Techdesigno has partnered with Staples in West Orange, NJ and discusses with local business people a variety of questions about how websites work. Techdesigno in West Orange, NJ set up a presentation table at their store to better serve their customers and answer any questions that may befuddle people about the use of the Internet for Business purposes. Techdesigno in West Orange, NJ was very excited to share their company vision with consumers. Staples sells office supplies, advertising products, and business services. Staples and Techdesigno connected with business customers on a range of online marketing services near the copy center location of the store.
Techdesigno spoke with customers about the services their company provides. They discussed:
Web Design
SEO and SEM
Social Media
Marketing
Videography
Photography
Techdesigno in West Orange, NJ specializes in website design and online marketing services for businesses. Throughout the Staples event in West Orange, NJ, the Techdesigno team discussed with customers the importance of a Google Performance Test. A Google Performance test displays how quickly and efficiently your website is running to ensure a great visitor experience. Techdesigno in West Orange, NJ also presented to customers the importance of high Google rankings and how they can assist companies with driving traffic to their websites.
Take a look at what a client of ours by the name of Mark K. had to say after Techdesigno in West Orange, NJ developed his website and implemented targeted marketing strategies.
"Only one week after my web site went live, I started receiving calls from prospective clients. I got a call from one area in Westchester County that the web design team at Techdesigno targeted. I called the client and booked them right away. I was happy to see a client come in so quickly and I'm looking forward to more.

I noticed that one keyword phrase for finding my business came up as the 6th listing on page 2 of Google. I think that this is pretty good considering the new site is only a week old. I know that with continued efforts from Techdesigno that my listing will go even higher. Brigitte and John were very helpful in designing a site that looks very professional. More importantly, the site has already started putting money in my pocket. Before Techdesigno redesigned my site and used their SEO techniques, I hadn't had a call from Westchester County in a very long time."
Techdesigno in West Orange, NJ is excited to work with Staples again and continue to provide services for small businesses to adapt and grow their online web presence. Whether it is web design, search engine optimization (SEO), marketing or video and photo services, Techdesigno delivers. Techdesigno in West Orange, NJ is looking forward to its next Staple Event.
Contact Techdesigno in West Orange, NJ at
973-736-7973 or email them today!