Details
Techdesigno Installs a New Digital Signage Display at the Turtle Back Zoo in West Orange, NJ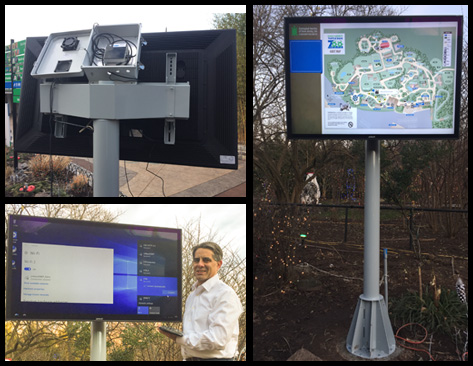 The Zoological Society of New Jersey (a.k.a, Turtle Back Zoo) in West Orange, NJ recently called upon us at Techdesigno to complete the installation of the Zoo's first outdoor digital signage display for visitors to be better informed when entering the Zoo's park. One of our Technicians, John Mitrano, is seen here installing and configuring the digital signage display with the following items:
1) Installing an Intel® NUC, a powerful four-by-four inch mini PC running MS Windows
2) Activating Microsoft Windows in the NUC
3) Wiring the NUC to the back of the digital display with its data cables, HDMI video cable and power connectivity.
4) Connecting, wiring and mounting the NUC into a weatherproof protective box
5) Configuring the NUC to the Zoo's local WiFi network
6) And, finally confirming with the content creator that all was enabled for the delivery of content to the digital signage display system
Read more: Techdesigno Installs a New Digital Signage Display at the Turtle Back Zoo in West Orange, NJ
Details
Meet One of Our Favorite Customers: David Brown!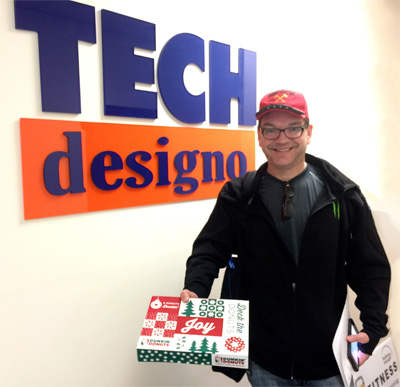 This morning David Brown stopped by at Techdesigno's office in West Orange, New Jersey for our quarterly meetings. To our surprise, David brings in a box of donuts to sweeten our morning!
Details
Meet Lisa Our Photographer Expert at Techdesigno in West Orange, NJ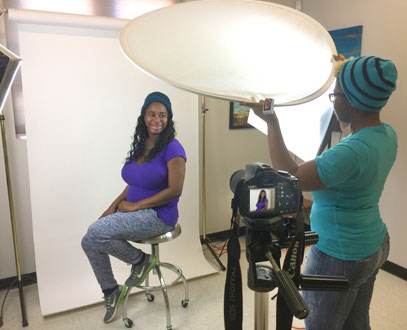 Meet Lisa, our expert portrait photographer here at Techdesigno in West Orange,NJ. She ensures that all the photographs that she takes of our clients come out looking beautiful and professional. For example, when we had our Free Portrait Night & Networking Event at the West Orange Arts Center in West Orange, NJ, Lisa was there to make sure that all our clients and guest received a great professional portrait.
Read more: Meet Lisa Our Photographer Expert at Techdesigno in West Orange, NJ
Details
Free Portrait Night & Networking Event in West Orange, NJ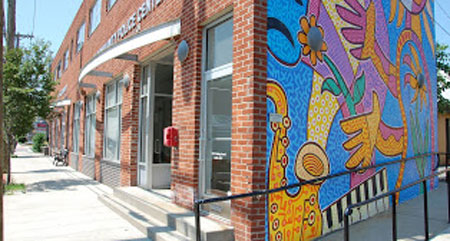 If you are around the West Orange, NJ area, we are offering the opportunity for you to get a professional portraiture of yourself to include on your social media accounts or websites. Please join us for our Free professional Portrait Session that is open to the general public on Thursday, January 11th from 6pm-9pm. There is no cost to attend this event or have your portrait taken.
Read more: Free Portrait Night & Networking Event in West Orange, NJ
Details
Do You Want to Out Position Your Competition on Google?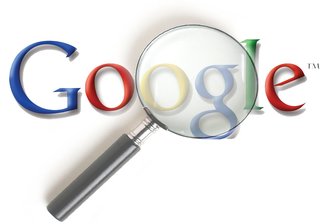 Google's search development team constantly updates and tweaks the Google search algorithm regularly. This includes the mobile search compatibility algorithmic update which went active on April 21, 2015. It is critically important to be sure that your business has been tested for compatibility. Google says that you may be penalized when people search using Google on their mobile devices and you're company's website is not mobile-friendly or mobile-optimized.
We can run a simple free test which will analyze your website addresses URL and report if the page has a mobile-friendly design. We have Certified SEO Specialists on staff as part of our design team.
Here are 9 tips and web site strategies that would boost your position in Google's Search Engine results pages. These activities can help you with SEO startegies and improve traffic, as well as, potentially increase sales through your web site and associated online properites. You may consider implementing these SEO strategies yourself or you can certainly seek our help in taking care of these technical aspects on your behalf:
Meta Tags
File Naming Conventions
Keyword Selection & Keyword Density
Alt Tags & Anchor Text
File Structure
Search Engine Submissions
Anchor Text
HTML & XML Site Map
Targeted Directories
Click here to Contact us for further details, assistance, or
to discuss what we can do for you, your business or organization.